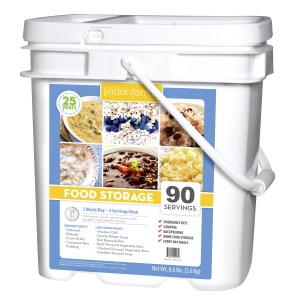 best picks magazine - we could not believe how scrumptious and satisfying the hearty potato soup was!
90 full servings, 9 different meals to choose from
2,000 calories a day for 1 week for 1 person
lindon farms 90 - 7 days, 1 person
lindon farms is the new way to do food storage. with the finest quality ingredients blended in the most delicious recipes on the market, we have done all the work for you you just add water and serve! this 90 serving emergency food storage container has 9 different just-add-water gourmet meals that are perfect for long term storage, regular meals or to throw in your backpack. and with a full 2000 calories/day for 7 days, this can be your stand alone food storage solution. our goal is to make food storage easy, so every home can be prepared for a disaster, economic difficulty or even a spontaneous weekend camping trip! with lindon farms, you are just one step away from checking emergency food storage off your list.
each meal is conveniently packaged in a 5-10 serving, zipseal, metalite pouch with an oxygen absorber to ensure an oxygen free environment. this allows you to enjoy a shelf-life of up to 20 years when stored properly in a cool, dry place. these buckets are designed to provide 2,000 calories a day when you select 6 or more servings of your favorite meals each day. lindon farms&amptrade recipes have been award-winning family favorites in the retail market for over 20 years. from delicious, creamy soups like hearty potato and cheddar broccoli to organic freeze-dried fruit, everyone can find a favorite meal.
meals
Price: $95.00